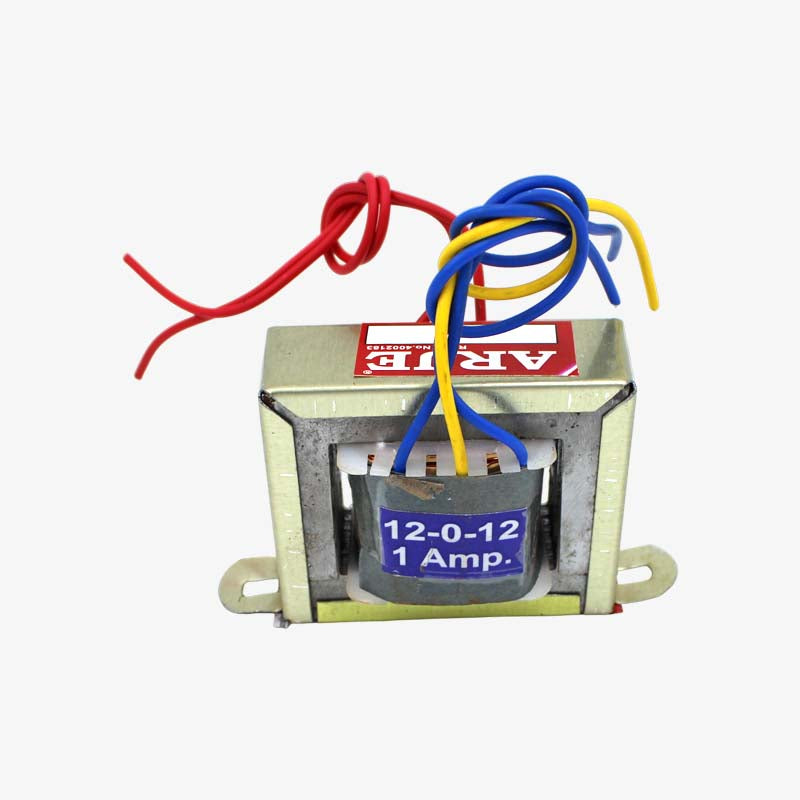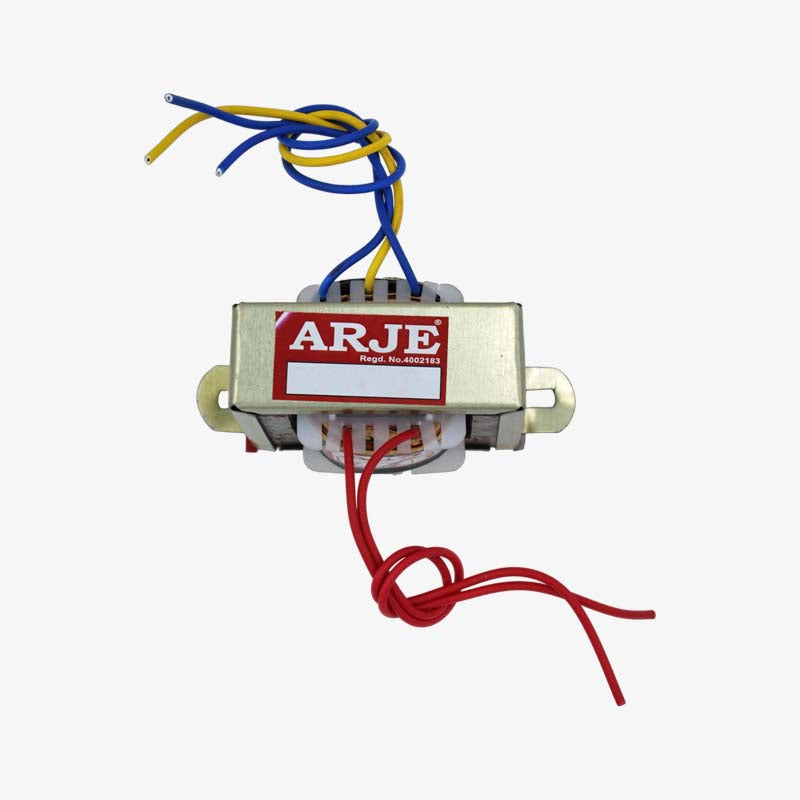 Free Shipping

On prepaid orders above INR 500

Cash On Delivery

COD available for orders above INR 500

3-5 Days Delivery

Shipped within 24 hrs

Dedicated Support

Mon to Sat - 10 AM to 6.30 PM
One of the most important machines that literally transformed the whole Electrical Power Industry is the Transformer. It is an electrical machine which with great efficiency changes the voltage level so that the power can be transferred to very long distances without much loss. 12-0-12V, 1A Centre-Tapped Step Down Transformer is a general-purpose chassis mounting mains transformer. Transformer has 230V primary winding and centre-tapped secondary winding. The Transformer act as a step-down transformer reducing 230VAC RMS to 12VAC RMS. It can be used in Small rectifier circuits to charge a 12V battery, Power small devices with low voltage ratings like Arduino, PIC, AVR, and Raspberry Pi and other controllers, it can also be used to charge mobile phones, etc. You can also check out other transformers on our website, for different current and voltage ratings.
Specifications
Input Voltage:  230V AC
Output Voltage: 12V RMS or 24V RMS
Output Current: 1 Amp
Mounting: Vertical mount type
Core: Soft Iron Core
Low cost and small package
Product Description
To connect the transformer, you need to connect the Red wires to 230VAC RMS voltage supply which is the standard wall socket voltage in India. The voltage across black and yellow wires is 12V and voltage across the two blue wires is 24V. If you want to get DC voltage, you need to connect a rectifier circuit with appropriate wires.
Additional Resources
12-0-12VAC Step Down T/F Datasheet
Project with 12/24VAC Transformer
Package Contents
1×12-0-12VAC Step Down Center Tapped Step-down Transformer (12V/24V)
Returns Policy
Due to the type of products we sell, we accept limited returns. Below are the conditions where we can accept a return request.
1. Damaged During Shipment
If you receive a product damaged during shipment, please notify us within the 3 days of you receive the product, supported by the proper pictures and description. Once our support team accept the return, we will provide a replacement or a complete refund including the return shipping cost.
2. Wrong Item Shipped
If your item looks different from what is shown in the image on our website, we will take the item back and provide a refund or replacement as per your choice.

Limitation of Returns
We don't accept the returns for the products damanged by improper use of the product. Moreover we don't accept the return, if the ordered product is not fit for any specific application. Please read the product specifications and datasheet before selecting and ordering a product. Returns are accepted only with 3 days from the date of delivery.
Shipping
We ship to all over India with free shipping on all prepaid orders above 500. For Cash on Delivery orders INR 80 will be charged for orders below INR 599 and INR 30 will be charged for the orders above 599. Please contact to our support team at support@quartzcomponents.com for any question related to shipping.
Please note that the Minimum Order Value is INR 500 for COD orders.