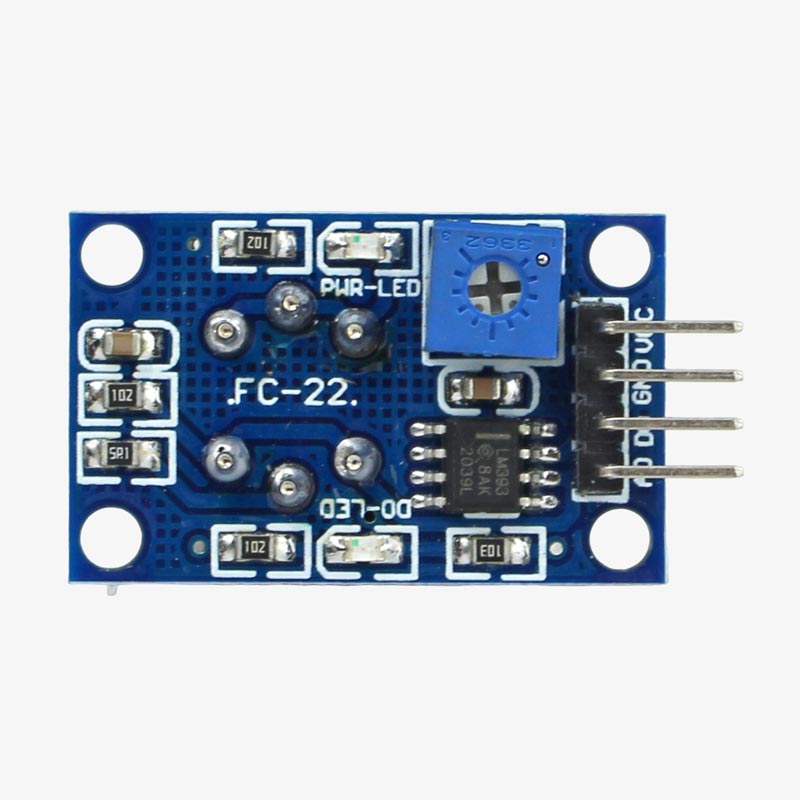 Free Shipping

On prepaid orders above INR 500

Cash On Delivery

COD available for orders above INR 500

3-5 Days Delivery

Shipped within 24 hrs

Dedicated Support

Mon to Sat - 10 AM to 6.30 PM
MQ-9 Gas Sensor Module for Carbon Monoxide, Methane and LPG
MQ9 Gas Sensor is a Metal Oxide Semiconductor (MOS) type Gas Sensor of MQ Gas Sensors family involving MQ 2, MQ 4, MQ 3, MQ 135, etc. It is mainly used to detect gases like Carbon Monoxide, Methane, and Propane, etc. This MQ9 Smoke Sensor contains a sensing element, mainly aluminum-oxide based ceramic, coated with Tin dioxide (SnO2), enclosed in a stainless steel mesh. Whenever gas comes into contact with the sensing element, the resistivity of the element changes. The change is then measured to get the concentration of the gases present. It has a small heating element present which is needed to preheat the sensor to get it in the working window. It can detect LPG, Propene, Hydrogen, Carbon Monoxide, and Methane Gas concentrations. It finds uses in detecting gas leakage in pipelines, Alarm application in case of a gas leak at home as CO is a very harmful gas and can kill a person if present over 300PPM.
Specifications
Operating Voltage is +5V
Can be used to Measure or detect LPG, Propane, CO, and Methane
Analog output voltage: 0V to 5V
Digital Output Voltage: 0V or 5V
Long life and Low Cost
Heater consumption ≤350mW
The Sensitivity of Digital Output pin can be varied using the potentiometer
Product Description
To use the Sensor Module, you have to power the device with 5V supply and the Power LED will start to glow. To power it, you can use external supply or connect +5V and GND pin of Arduino. You should give it some preheating time before start reading the output. While measuring the gas present, the Output LED will glow in a specific concentration of the gas. You can change it by using the potentiometer. Else you can also use the Analog Output to see how your program reacts to different concentrations of gases present.
Package Contents
1×MQ-9 CO Gas Sensor Module
Additional Resources
Returns Policy
Due to the type of products we sell, we accept limited returns. Below are the conditions where we can accept a return request.
1. Damaged During Shipment
If you receive a product damaged during shipment, please notify us within the 3 days of you receive the product, supported by the proper pictures and description. Once our support team accept the return, we will provide a replacement or a complete refund including the return shipping cost.
2. Wrong Item Shipped
If your item looks different from what is shown in the image on our website, we will take the item back and provide a refund or replacement as per your choice.

Limitation of Returns
We don't accept the returns for the products damanged by improper use of the product. Moreover we don't accept the return, if the ordered product is not fit for any specific application. Please read the product specifications and datasheet before selecting and ordering a product. Returns are accepted only with 3 days from the date of delivery.
Shipping
We ship to all over India with free shipping on all prepaid orders above 500. For Cash on Delivery orders INR 80 will be charged for orders below INR 599 and INR 30 will be charged for the orders above 599. Please contact to our support team at support@quartzcomponents.com for any question related to shipping.
Please note that the Minimum Order Value is INR 500 for COD orders.