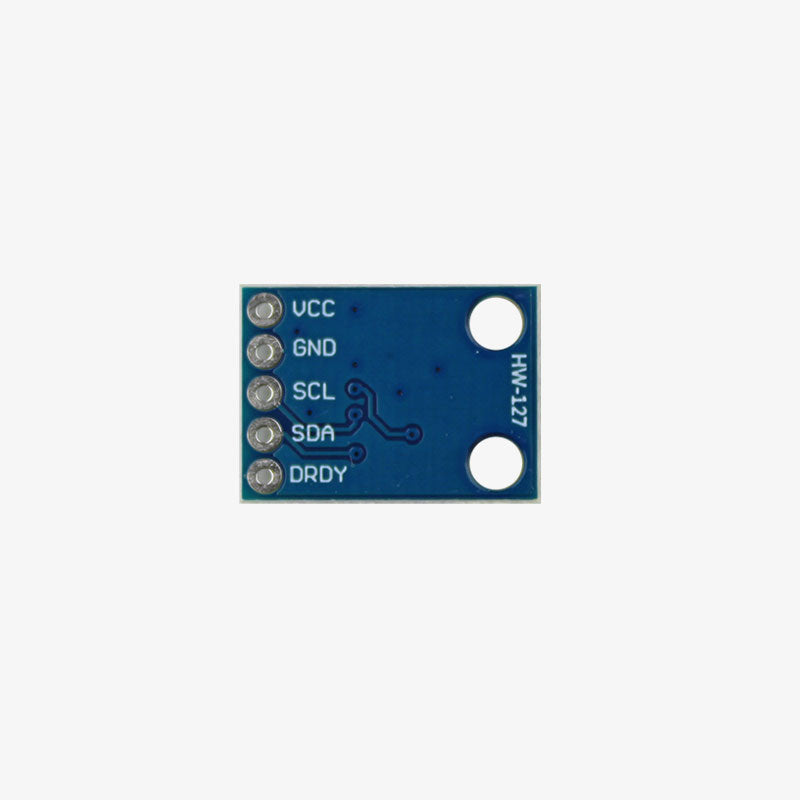 Free Shipping

On prepaid orders above INR 500

Cash On Delivery

COD available for orders above INR 500

3-5 Days Delivery

Shipped within 24 hrs

Dedicated Support

Mon to Sat - 10 AM to 6.30 PM
So most of the navigation devices come equipped with a magnetometer which can sense where the strongest magnetic field is coming from i.e. the magnetic north pole of earth and point towards it. The HMC5883 being a magnetometer sensor does the same thing, the sensor is also called GY271. This IC has 3 magneto-resistive materials inside which are arranged in the axes x, y and z. The amount of current flowing through these materials is sensitive to the earth's magnetic field. So, changes in this current is measured and calculated to determine the directions. Care should be taken while using it as any strong magnetic material placed near it might force a false reading. This compass sensor module utilizes QMC5883L IC instead of HMC5883L because it is cheaper to manufacture and is most commonly available in the market. This is most commonly used as a Digital Compass Sensor or to detect any Ferrous (Magnetic) material.  Additional Uses include Robotic Navigation and UAV Systems.
Specifications of Triple Axis Magnetometer Sensor Module
Input Voltage: +3V to +6V
QMC5883L IC
Range of -8 to +8 Gauss with 2 mGauss resolution
I2C interface
1-2 degree heading accuracy
Integrated 12-bit ADC
160Hz max data rate
Product Description
The module utilizes I2C communication protocol to communicate and has 5 pins on breakout board namely VCC, GND, SDA, SCL and DRDY. It has a voltage regulator on board so you van directly connect to the VCC pin from your Microcontroller Board and a 12-bit Analog to Digital Converter so that you can use any GPIO pin.
Additional Resources:
Returns Policy
Due to the type of products we sell, we accept limited returns. Below are the conditions where we can accept a return request.
1. Damaged During Shipment
If you receive a product damaged during shipment, please notify us within the 3 days of you receive the product, supported by the proper pictures and description. Once our support team accept the return, we will provide a replacement or a complete refund including the return shipping cost.
2. Wrong Item Shipped
If your item looks different from what is shown in the image on our website, we will take the item back and provide a refund or replacement as per your choice.

Limitation of Returns
We don't accept the returns for the products damanged by improper use of the product. Moreover we don't accept the return, if the ordered product is not fit for any specific application. Please read the product specifications and datasheet before selecting and ordering a product. Returns are accepted only with 3 days from the date of delivery.
Shipping
We ship to all over India with free shipping on all prepaid orders above 500. For Cash on Delivery orders INR 80 will be charged for orders below INR 599 and INR 30 will be charged for the orders above 599. Please contact to our support team at support@quartzcomponents.com for any question related to shipping.
Please note that the Minimum Order Value is INR 500 for COD orders.