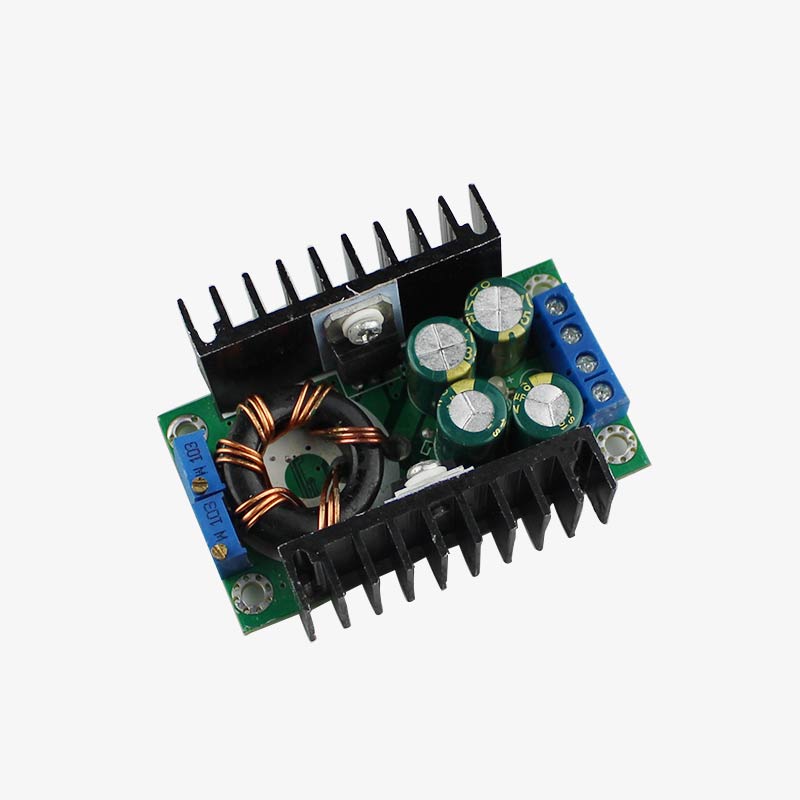 Free Shipping

On prepaid orders above INR 500

Cash On Delivery

COD available for orders above INR 500

3-5 Days Delivery

Shipped within 24 hrs

Dedicated Support

Mon to Sat - 10 AM to 6.30 PM
XL4016 Step Down Buck Converter (300W 10A Power Supply Module)
Buck converter is used when you require to step down the DC voltage from a specified value to a lower value in DC voltage. Unlike AC voltage which you can control easily with a transformer, DC voltages are harder to control because you can't use a transformer to control it and it requires switching regulators to do so. This 300W 10A DC-DC Step-down Adjustable Constant Current Module can be used to get adjustable output voltage ranges from 1.2V to 30V. The module provides a wide range of current output up to 10A. With the heat sink mounted it can easily manage to run high power applications continuously. The module has onboard multiturn potentiometers for high accuracy voltage and current regulation to provide good stability. As voltage and current are adjustable, it gives very easy to use at multiple Application such as battery charging of multiple voltages like 12V, 9V, 3.6V, 24V, LED Driver power supply, Vehicle Power Supply, etc. i.e. it is a multipurpose module.
Specification
Maximum Power Output: 300W
Maximum Current Supply: 10A
Output Voltage Range: 1.2Vdc to 30Vdc
Step Down (Buck) Converter
Adjustable Output Voltage
Component Description
Package Contents
1× XL4016 Step Down Buck Converter (300W 10A Power Supply Module)
Note: Product Images are shown for illustrative purposes only and may differ from actual product.
Returns Policy
Due to the type of products we sell, we accept limited returns. Below are the conditions where we can accept a return request.
1. Damaged During Shipment
If you receive a product damaged during shipment, please notify us within the 3 days of you receive the product, supported by the proper pictures and description. Once our support team accept the return, we will provide a replacement or a complete refund including the return shipping cost.
2. Wrong Item Shipped
If your item looks different from what is shown in the image on our website, we will take the item back and provide a refund or replacement as per your choice.

Limitation of Returns
We don't accept the returns for the products damanged by improper use of the product. Moreover we don't accept the return, if the ordered product is not fit for any specific application. Please read the product specifications and datasheet before selecting and ordering a product. Returns are accepted only with 3 days from the date of delivery.
Shipping
We ship to all over India with free shipping on all prepaid orders above 500. For Cash on Delivery orders INR 80 will be charged for orders below INR 599 and INR 30 will be charged for the orders above 599. Please contact to our support team at support@quartzcomponents.com for any question related to shipping.
Please note that the Minimum Order Value is INR 500 for COD orders.
Useless component of no use at all.
XL4016
Premium Quality Price but Poor Quality Product . 4 amp not handled. 22 gram difference between good quality and you's quality. Overall dustbin quality
XL4016 Step Down Buck Converter (300W 10A Power Supply Module)
buck converter
इस मॉड्यूल से आप वोल्टेज और ऐंपेयर को कम ज्यादा कर सकते हैं 1.5 से 35 वोल्ट विद प्रोटेक्शन
Useless component of no use at all.
XL4016
Premium Quality Price but Poor Quality Product . 4 amp not handled. 22 gram difference between good quality and you's quality. Overall dustbin quality
XL4016 Step Down Buck Converter (300W 10A Power Supply Module)
buck converter
इस मॉड्यूल से आप वोल्टेज और ऐंपेयर को कम ज्यादा कर सकते हैं 1.5 से 35 वोल्ट विद प्रोटेक्शन