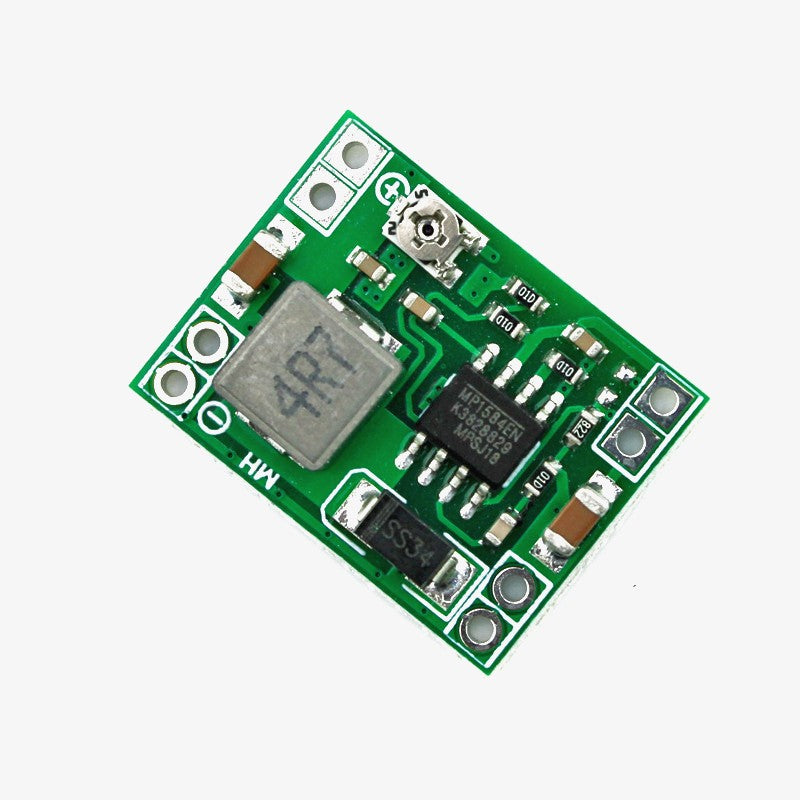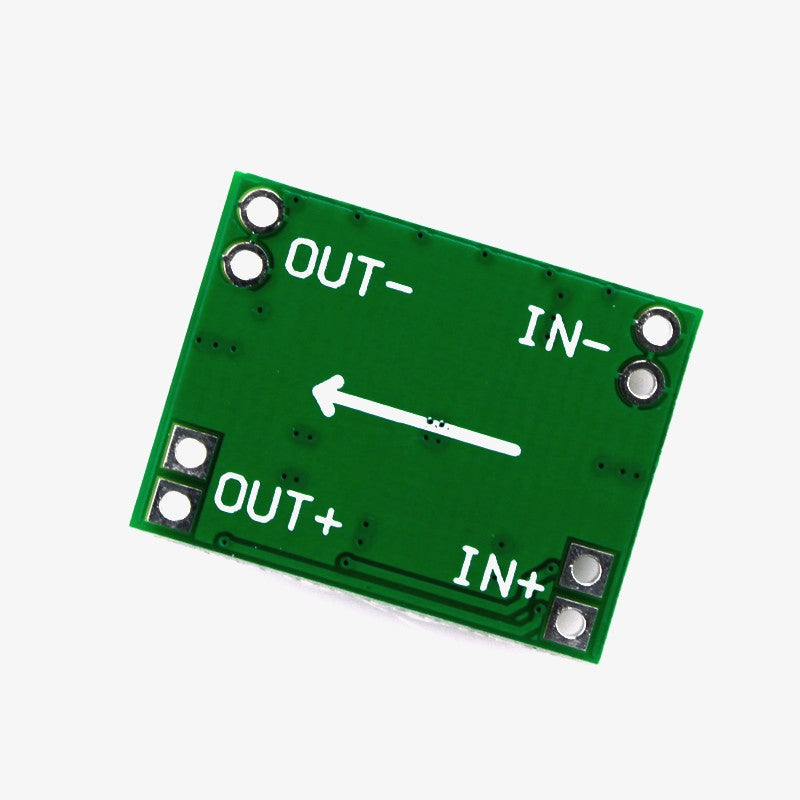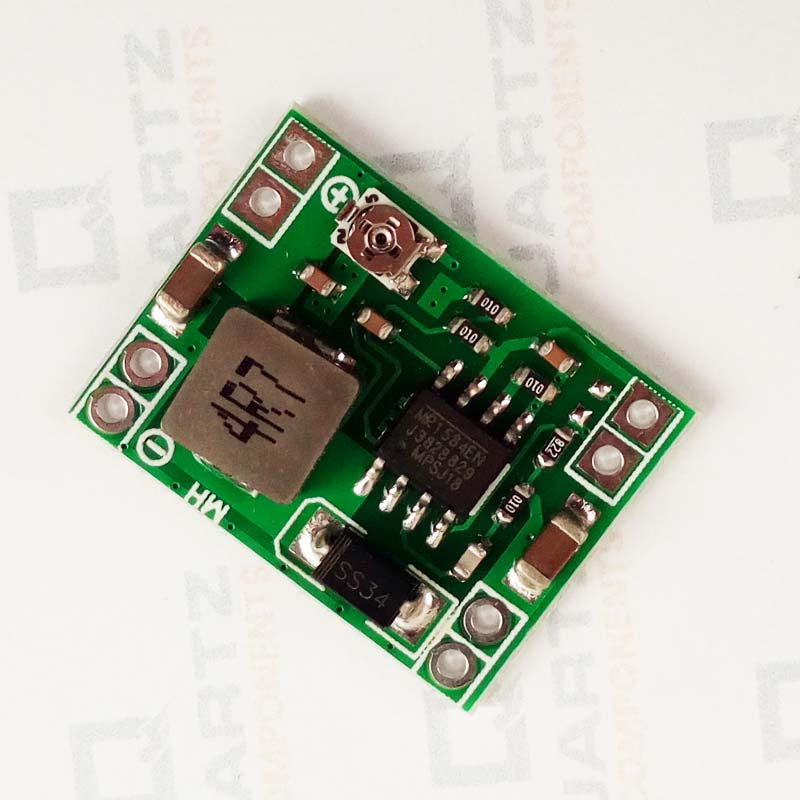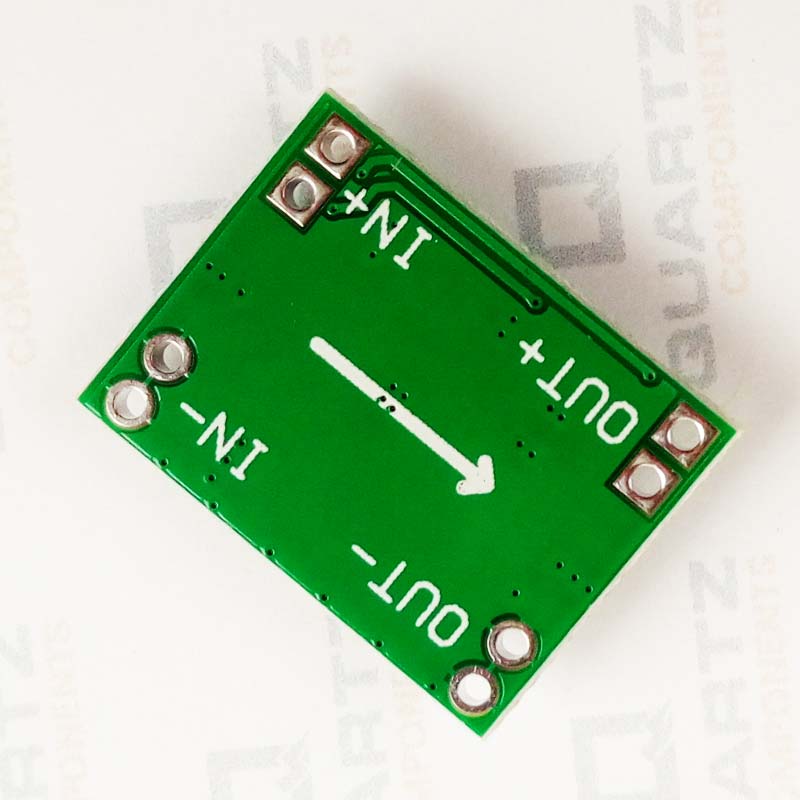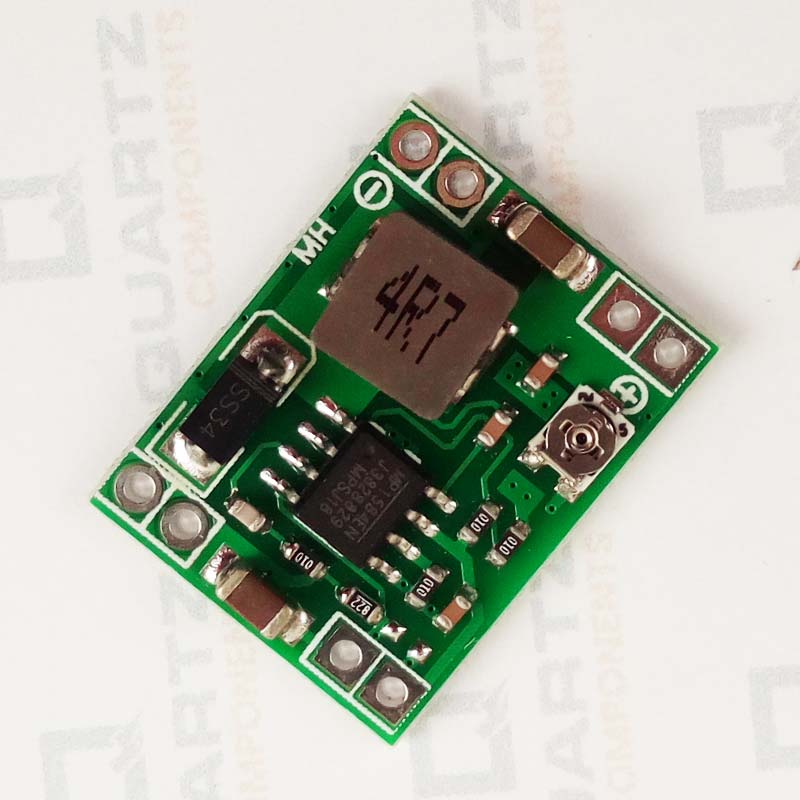 Free Shipping

On prepaid orders above INR 500

Cash On Delivery

COD available for orders above INR 500

3-5 Days Delivery

Shipped within 24 hrs

Dedicated Support

Mon to Sat - 10 AM to 6.30 PM
MP1584 DC-DC Step Down Buck Converter - 3A Adjustable
Most of the sensors, Development Boards like Arduino, Raspberry Pi and PIC Controllers work on either 5V or 3.3V most commonly available battery we have with us is 9V or 12V lead acid batteries so it is essential that we supply the components with correct voltage otherwise they may misbehave or simply not work at all. Also, fluctuations in power supply will result in errors and garbage data from the sensors. It may also corrupt the SD card on which you are writing the data or cause your program to misbehave. To deal with this problem we can use this Ultra-Small Size DC-DC Buck Converter module which can step down the DC voltages from upto 28V to 5-20V. The output voltage of this module can be adjusted too which means you can control the output voltage of this module. The main advantage of this module is that it can provide a high output current of upto 3A so that you can even connect small motors to it without thinking much but keep an eye on heat dissipation of the module.
Specifications
Module Properties: non-isolated constant voltage module

Rectification: non-synchronous rectification

Input voltage: 4.5V-28V

Output Voltage (Less than input): 1.0V-20V

Output current: 3A maximum

Conversion efficiency: 92% (maximum)

Switching frequency: 1MHz
Product Description
The module is pretty easy to use. You just have to connect your positive and negative terminals of the battery or DC supply to the input terminals of the module and before connecting it to the components you are supplying power to, check and adjust the voltage of the output terminals by using a voltmeter and the blue potentiometer on the module itself. Keep in mind, it is a buck converter so it cant supply more voltage than the voltage it is provided with.
Package Contents
1× DC-DC Step Down Power Supply Adjustable Buck Converter Module
Returns Policy
Due to the type of products we sell, we accept limited returns. Below are the conditions where we can accept a return request.
1. Damaged During Shipment
If you receive a product damaged during shipment, please notify us within the 3 days of you receive the product, supported by the proper pictures and description. Once our support team accept the return, we will provide a replacement or a complete refund including the return shipping cost.
2. Wrong Item Shipped
If your item looks different from what is shown in the image on our website, we will take the item back and provide a refund or replacement as per your choice.

Limitation of Returns
We don't accept the returns for the products damanged by improper use of the product. Moreover we don't accept the return, if the ordered product is not fit for any specific application. Please read the product specifications and datasheet before selecting and ordering a product. Returns are accepted only with 3 days from the date of delivery.
Shipping
We ship to all over India with free shipping on all prepaid orders above 500. For Cash on Delivery orders INR 80 will be charged for orders below INR 599 and INR 30 will be charged for the orders above 599. Please contact to our support team at support@quartzcomponents.com for any question related to shipping.
Please note that the Minimum Order Value is INR 500 for COD orders.
good product
best for 5v power supply if you are using microcontroller or relay module, stable voltage and current not heating.
very good👍
five star product. work nice.
good product
best for 5v power supply if you are using microcontroller or relay module, stable voltage and current not heating.
very good👍
five star product. work nice.