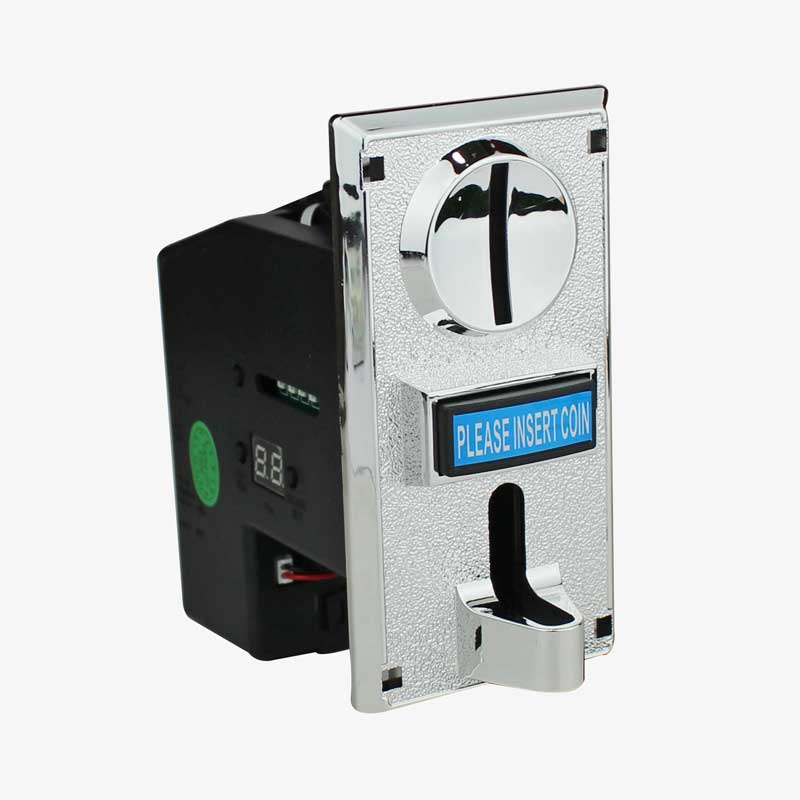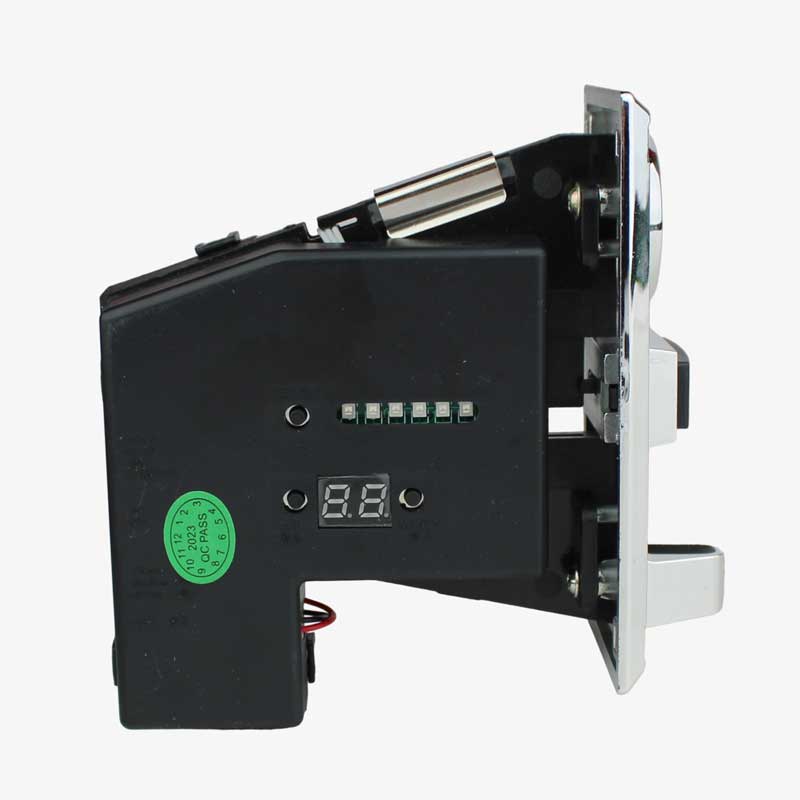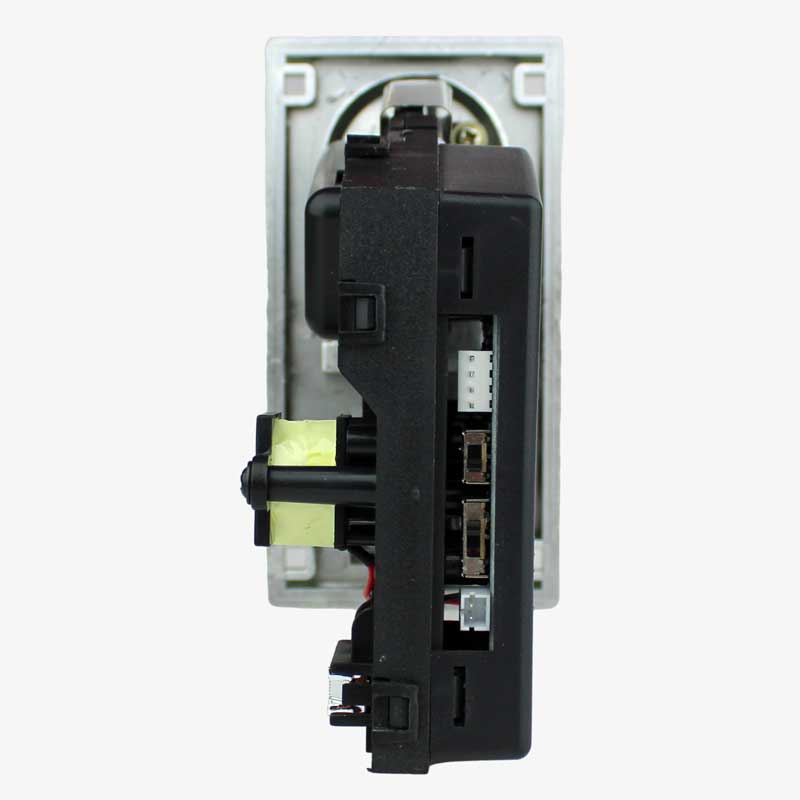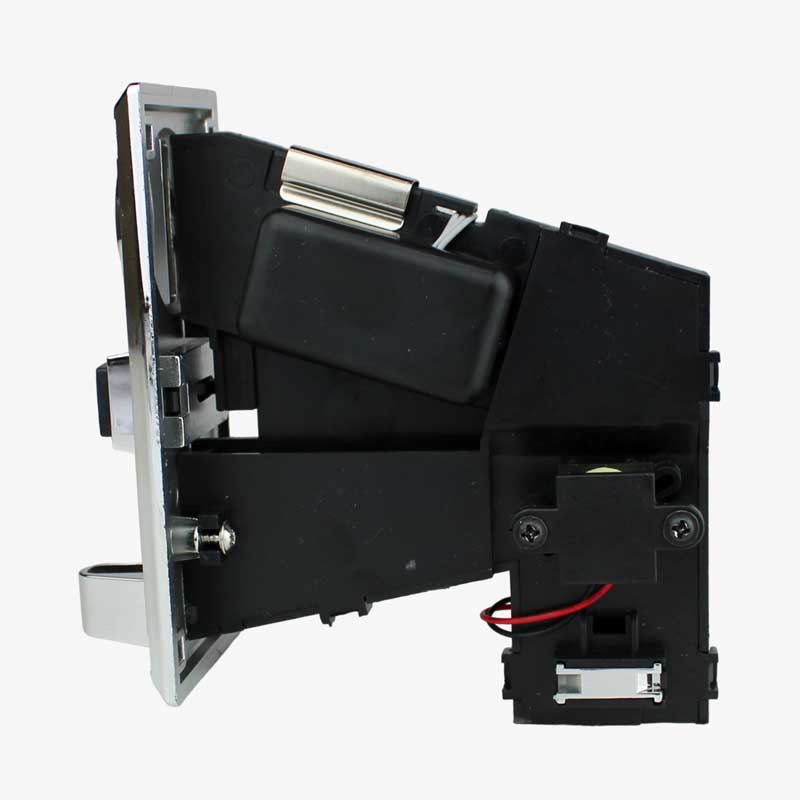 Free Shipping

On prepaid orders above INR 500

Cash On Delivery

COD available for orders above INR 500

3-5 Days Delivery

Shipped within 24 hrs

Dedicated Support

Mon to Sat - 10 AM to 6.30 PM
Are you using electronics to try to make a quick buck? Why stop at dime-sized items? This coin acceptor will accept as many as six distinct coin types! This programmed coin acceptor makes it simple to monetize your next project, regardless of whether you're creating your own arcade cabinet or simply charging entrance fees to your home.
The thickness, diameter, and fall time of the coins are used by the sensors in this coin acceptor to identify them, and it is entirely customizable so you are not restricted to any certain sort of currency. Select a coin profile, insert a number of coin samples (or the same coin again), and then specify the value using the buttons and 7-segment display on the side of the device. Once the coin profiles have been programmed, you may read the serial output of the coin acceptor to find out the value of each coin as it is inserted. These values are reported as binary bytes, and the unit's baud rate is adjustable.
Along with a (very loud) alert beeper and a coin reject feature, this coin acceptor also contains a coin reject button that your controller may use to instruct it to stop accepting coins. A pocket full of change, a 12 VDC supply, and a place for the change to fall once it is accepted are all you need to get the coin acceptor running. It can be easily interfaced with any sensors.
Therefore, it's unlikely that you'll become wealthy by creating your own vending machines, but access control using various token sizes or even a virtual vending machine where you can buy MMORPG stuff could be interesting. A ton of awesome coin-operated projects are already planned and ready to go!
Key Features of the Coin Acceptor for Vending Machines:
Ability to accept up to six different forms of coins and tokens from around the world.
High accuracy and intelligent CPU software control.
Automatic error checking without using a computer.
Freely configurable pulse output.
Protection against electromagnetic interference and electric shock.
How to Configure the Vending Machine Coin Acceptor (Multi-Coin Acceptor):
Press the setting key (8) to choose several currency systems.
Use the accurate key or broaden key to increase or decrease the numerical value.
Press the setting key once the setup is complete to confirm.
The letter H will appear in the sentence (the quantity of sampling for various currency values).
The letter P will appear in the sentence (the numerical value for signal output of various currency values).
The letter F will appear in the sentence (the precision of various currency values).
Set the desired money according to the parity of argumentation.
Turn off the power when the letter E appears so that it can reopen.
The multi-coin reader machine can take up to six different kinds of coins and tokens from across the world. It has an integrated intelligent CPU software control for high accuracy. Self-programming features are also included. It guards against electromagnetic interference and electrical shocks.
Package Includes:
1 x Multi Coin Acceptor Programable for Vending Machines
Specifications:
Identify accuracy rate: 95%
Diameter: Ф15mm-Ф29mm
Thickness: 1.8mm-3.0mm
Operating voltage: DC12V ± 10%
Working current: 50mA
Recognition speed: ≤0.6sec
Dimensions: 6.3 x 6 x 12.3 cm
Weight:
Returns Policy
Due to the type of products we sell, we accept limited returns. Below are the conditions where we can accept a return request.
1. Damaged During Shipment
If you receive a product damaged during shipment, please notify us within the 3 days of you receive the product, supported by the proper pictures and description. Once our support team accept the return, we will provide a replacement or a complete refund including the return shipping cost.
2. Wrong Item Shipped
If your item looks different from what is shown in the image on our website, we will take the item back and provide a refund or replacement as per your choice.

Limitation of Returns
We don't accept the returns for the products damanged by improper use of the product. Moreover we don't accept the return, if the ordered product is not fit for any specific application. Please read the product specifications and datasheet before selecting and ordering a product. Returns are accepted only with 3 days from the date of delivery.
Shipping
We ship to all over India with free shipping on all prepaid orders above 500. For Cash on Delivery orders INR 80 will be charged for orders below INR 599 and INR 30 will be charged for the orders above 599. Please contact to our support team at support@quartzcomponents.com for any question related to shipping.
Please note that the Minimum Order Value is INR 500 for COD orders.