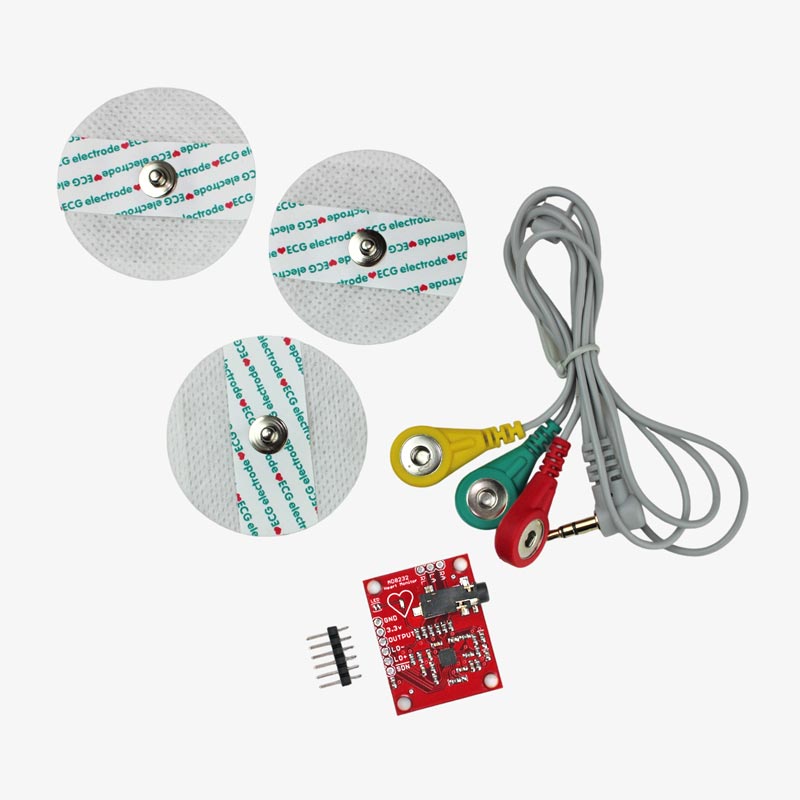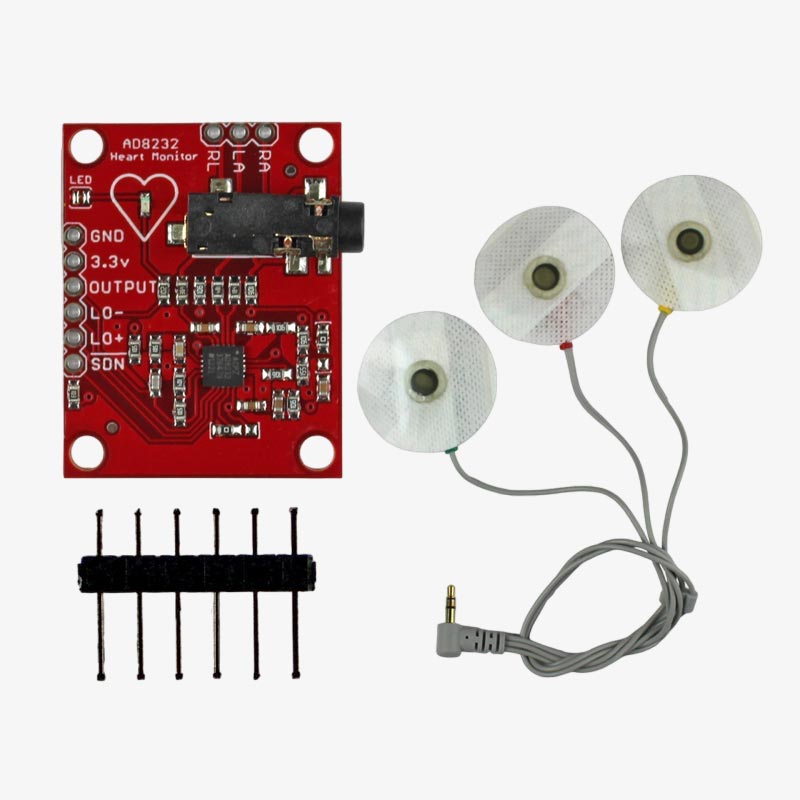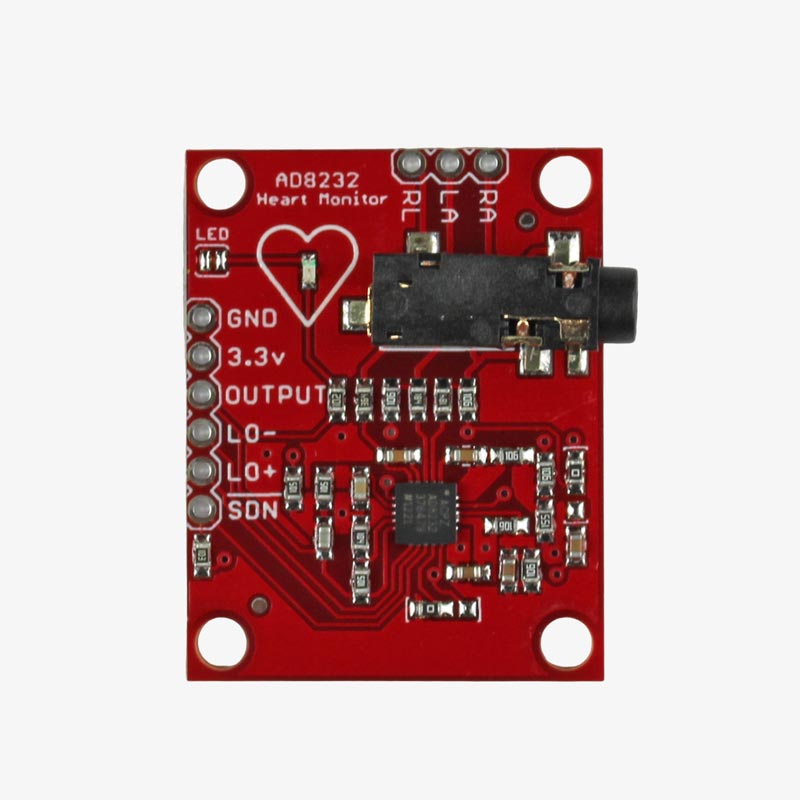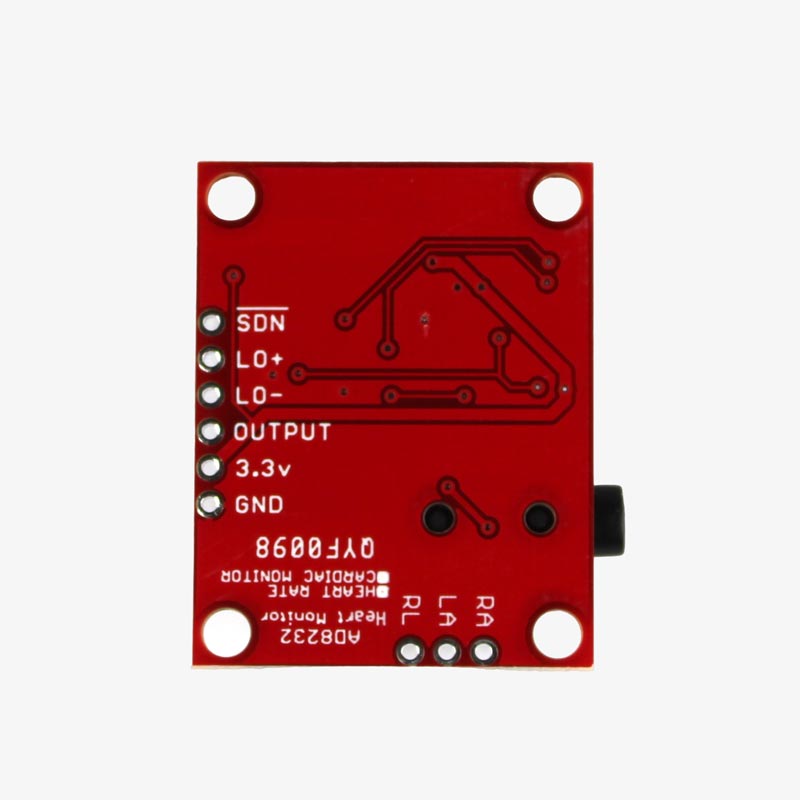 Free Shipping

On prepaid orders above INR 500

Cash On Delivery

COD available for orders above INR 500

3-5 Days Delivery

Shipped within 24 hrs

Dedicated Support

Mon to Sat - 10 AM to 6.30 PM
This sensor is a cost-effective board used to measure the electrical activity of the heart. This electrical activity can be charted as an ECG or Electrocardiogram and output as an analog reading. ECGs can be extremely noisy, the AD8232 Single Lead Heart Rate Monitor acts as an op-amp to help obtain a clear signal from the PR and QT Intervals easily.
The AD8232 is an integrated signal conditioning block for ECG and other biopotential measurement applications. It is designed to extract, amplify, and filter small biopotential signals in the presence of noisy conditions, such as those created by motion or remote electrode placement.
The AD8232 module breaks out nine connections from the IC that you can solder pins, wires, or other connectors to. SDN, LO+, LO-, OUTPUT, 3.3V, GND provide essential pins for operating this monitor with an Arduino or other development board. Also provided on this board are RA (Right Arm), LA (Left Arm), and RL (Right Leg) pins to attach and use your own custom sensors. Additionally, there is an LED indicator light that will pulsate to the rhythm of a heartbeat.
Specifications:
Operating Voltage: 3.3V
Operating Temp: -40 to 90 

°C

Cable Length: 100cm

Leads-Off Detection
Shutdown Pin
LED Indicator
3.5mm Jack for Biomedical Pad Connection
Note: This product is NOT a medical device and is not intended to be used as such or as an accessory to such nor diagnose or treat any conditions.
Returns Policy
Due to the type of products we sell, we accept limited returns. Below are the conditions where we can accept a return request.
1. Damaged During Shipment
If you receive a product damaged during shipment, please notify us within the 3 days of you receive the product, supported by the proper pictures and description. Once our support team accept the return, we will provide a replacement or a complete refund including the return shipping cost.
2. Wrong Item Shipped
If your item looks different from what is shown in the image on our website, we will take the item back and provide a refund or replacement as per your choice.

Limitation of Returns
We don't accept the returns for the products damanged by improper use of the product. Moreover we don't accept the return, if the ordered product is not fit for any specific application. Please read the product specifications and datasheet before selecting and ordering a product. Returns are accepted only with 3 days from the date of delivery.
Shipping
We ship to all over India with free shipping on all prepaid orders above 500. For Cash on Delivery orders INR 80 will be charged for orders below INR 599 and INR 30 will be charged for the orders above 599. Please contact to our support team at support@quartzcomponents.com for any question related to shipping.
Please note that the Minimum Order Value is INR 500 for COD orders.