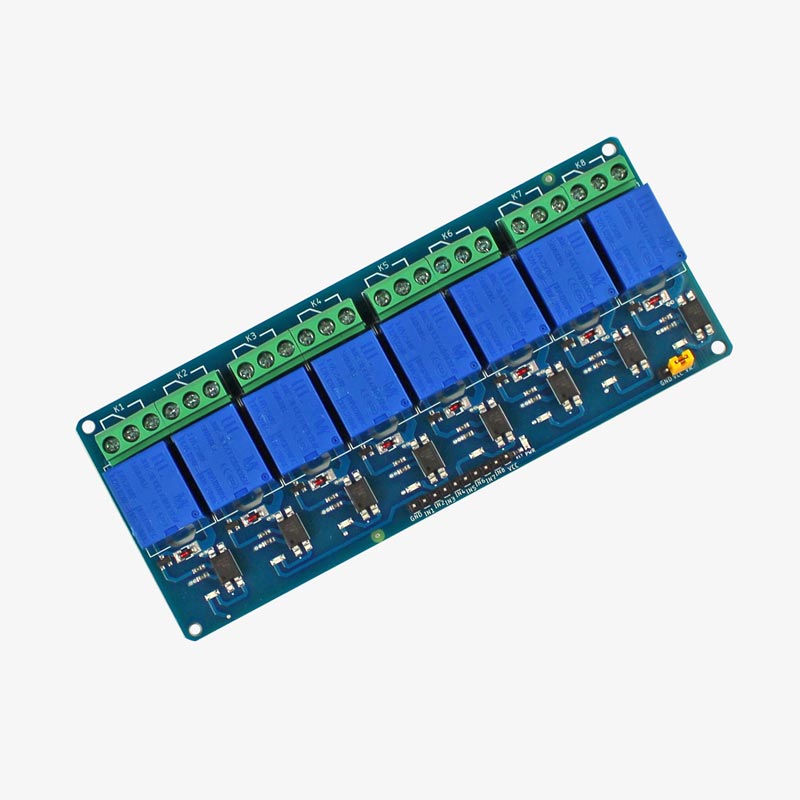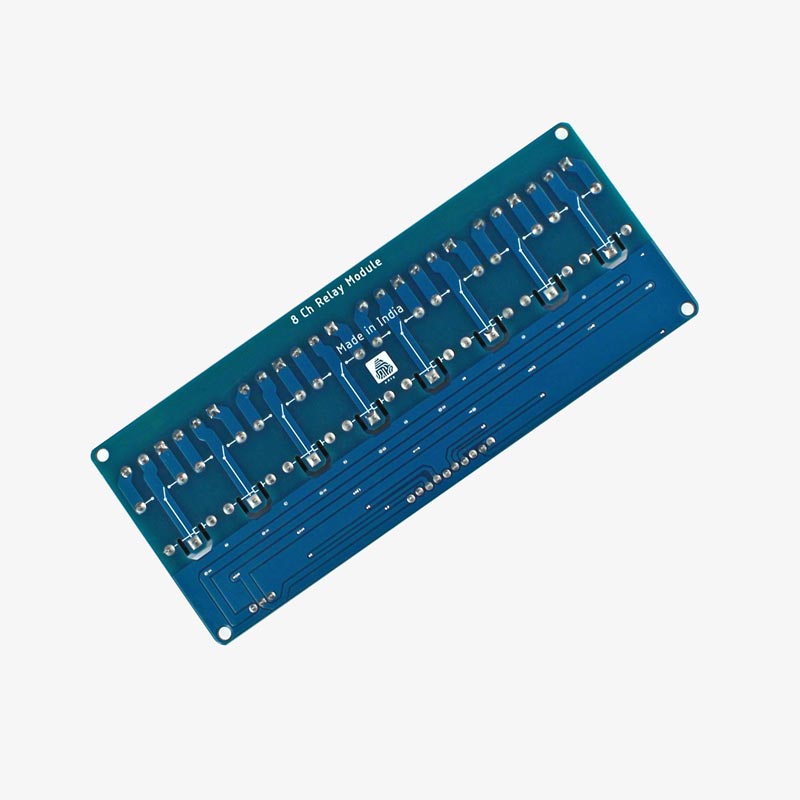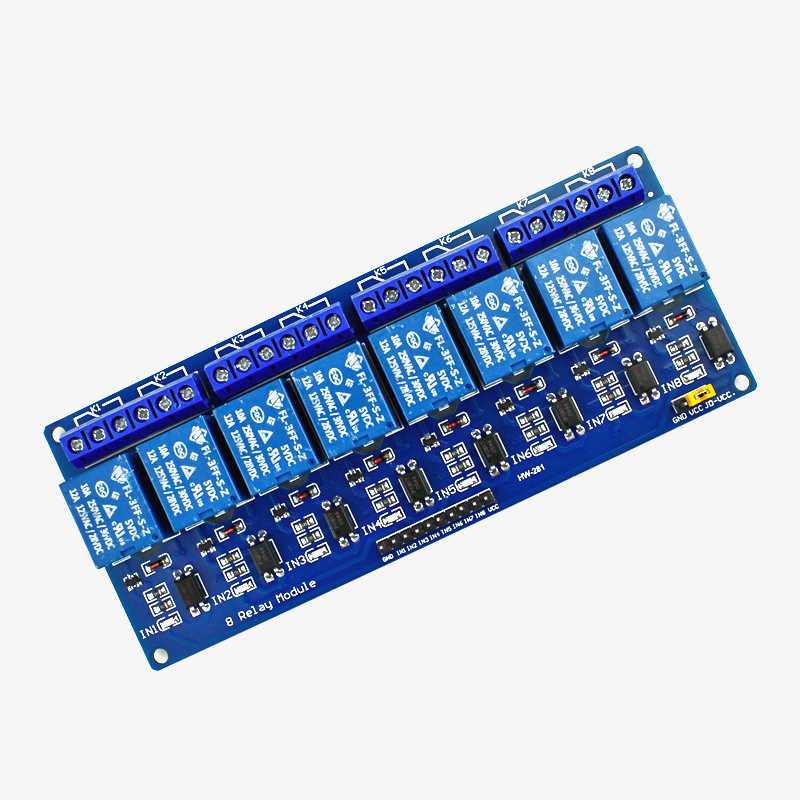 Free Shipping

On prepaid orders above INR 500

Cash On Delivery

COD available for orders above INR 500

3-5 Days Delivery

Shipped within 24 hrs

Dedicated Support

Mon to Sat - 10 AM to 6.30 PM
Relays are important part of any electrical and electronic circuits. We use relays in control applications, switching applications, circuit protection applications and load transfer applications. Relays are also used to provide electrical isolation between two circuits. This 8-channel Relay module comes with Optocoupler protection is an active low relay module which means that the relay will conduct when the input signal falls below 2V and if it is above 2V then the relay is turned off you can also make it an active module by changing the jumper position on the power module. It can be controlled directly with both 3.3V and 5V microcontrollers easily. You can use it to control both DC and AC lines and it also has LED indicators to indicate the state of operation of the module. It also has high Impedance input pin so not to draw any more current than required from the controller.
8-Channel Relay Module Specifications
Optically Isolated relays protect your microcontroller from damage if the equipment being controlled fails

5V 8-Channel Relay Interface Board, each one needs 15 – 20mA Driver current

Equipped with high current relays 10A which can handle upto 250VAC

Relay output status indication by LED

Back EMF Protection

High Input Impedance
Product Description
Take care of fact that the current flowing does not exceed its rating.
Package Contents
1×8 Channel 5V Relay Module with Optocoupler
Returns Policy
Due to the type of products we sell, we accept limited returns. Below are the conditions where we can accept a return request.
1. Damaged During Shipment
If you receive a product damaged during shipment, please notify us within the 3 days of you receive the product, supported by the proper pictures and description. Once our support team accept the return, we will provide a replacement or a complete refund including the return shipping cost.
2. Wrong Item Shipped
If your item looks different from what is shown in the image on our website, we will take the item back and provide a refund or replacement as per your choice.

Limitation of Returns
We don't accept the returns for the products damanged by improper use of the product. Moreover we don't accept the return, if the ordered product is not fit for any specific application. Please read the product specifications and datasheet before selecting and ordering a product. Returns are accepted only with 3 days from the date of delivery.
Shipping
We ship to all over India with free shipping on all prepaid orders above 500. For Cash on Delivery orders INR 80 will be charged for orders below INR 599 and INR 30 will be charged for the orders above 599. Please contact to our support team at support@quartzcomponents.com for any question related to shipping.
Please note that the Minimum Order Value is INR 500 for COD orders.
8 Channel 5V Relay Module with Optocoupler
8 Channel 5V Relay Module with Optocoupler
Fine
Pcb ok, octocopler ok, but relay low quality, 🤪🤪🤪🤪🤔🤔🤔🤔🤔🤔🤔🤔🤔🤔🤔
8 Channel 5V Relay Module with Optocoupler
8 Channel 5V Relay Module with Optocoupler
Fine
Pcb ok, octocopler ok, but relay low quality, 🤪🤪🤪🤪🤔🤔🤔🤔🤔🤔🤔🤔🤔🤔🤔