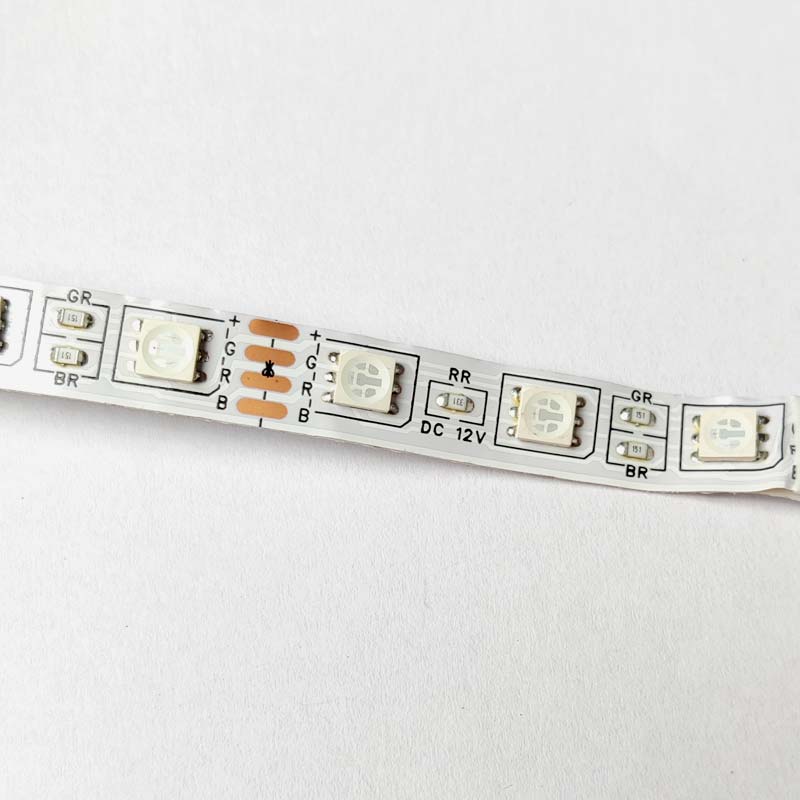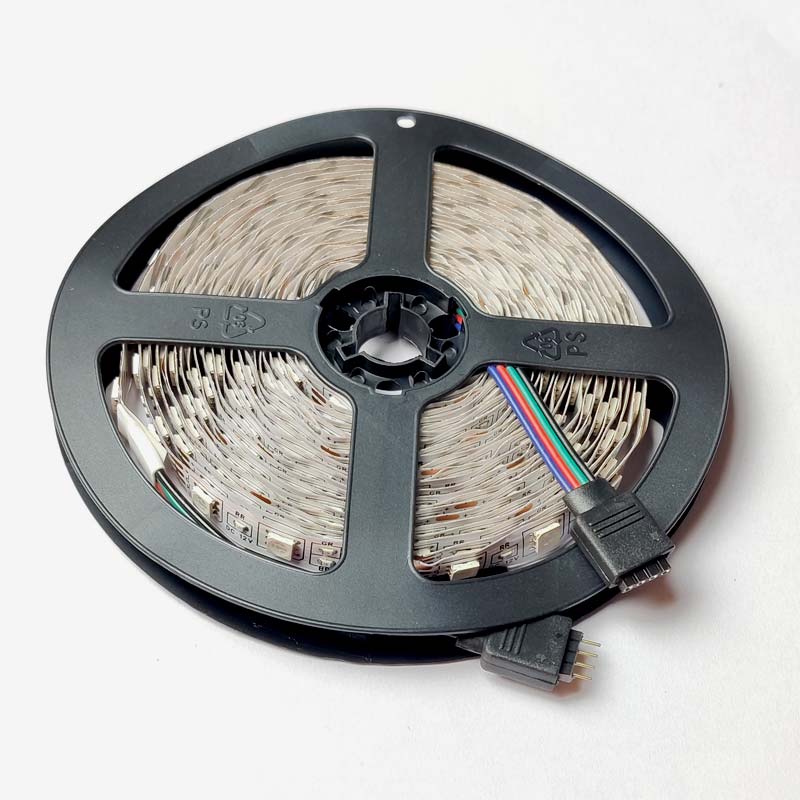 Free Shipping

On prepaid orders above INR 500

Cash On Delivery

COD available for orders above INR 500

3-5 Days Delivery

Shipped within 24 hrs

Dedicated Support

Mon to Sat - 10 AM to 6.30 PM
This is a 12V, 5050 SMD LED Strip that has higher intensity and high reliability that could offer a longer life span about 5000 hours of continuous glow than the Ordinary LED strips. With a 5-meter-long LED strip that has around 240 LEDs with Red, Green and Blue light. Since these three colors are primary colors, any color using these three combinations produces a wide range of color intensity. It operates at 12V, 2A DC supply. 
It is designed with a flexible ribbon that is very easy to bend, curved where the light spreads evenly. No Flickering or dark light condition can be observed during the application. It is also easy to connect this strip as it has soldered endpoints in both sides as well as wires are also available in one side. It has self-adhesive taping for a convenient fixture in an even and smoother surface. 
Specification: -
LED Glow Color: RGB
View angle:  120 ° ~ 140 °
5050 Package SMD
Strip Length: 5 Meter
Operating Voltage: 12V DC
Operating Current: 2A
Strip width: 10 mm
No of LEDs: 48LED/Meter
Protection Level: IP20 (Not Waterproof)
Application: -
Decoration
Street Lighting
Party Light
Room Light
Festival Lights
Example Projects on LED Strip:
Additional Resources:
Package Contains
1x 5mtr LED Strip with Reel
Returns Policy
Due to the type of products we sell, we accept limited returns. Below are the conditions where we can accept a return request.
1. Damaged During Shipment
If you receive a product damaged during shipment, please notify us within the 3 days of you receive the product, supported by the proper pictures and description. Once our support team accept the return, we will provide a replacement or a complete refund including the return shipping cost.
2. Wrong Item Shipped
If your item looks different from what is shown in the image on our website, we will take the item back and provide a refund or replacement as per your choice.

Limitation of Returns
We don't accept the returns for the products damanged by improper use of the product. Moreover we don't accept the return, if the ordered product is not fit for any specific application. Please read the product specifications and datasheet before selecting and ordering a product. Returns are accepted only with 3 days from the date of delivery.
Shipping
We ship to all over India with free shipping on all prepaid orders above 500. For Cash on Delivery orders INR 80 will be charged for orders below INR 599 and INR 30 will be charged for the orders above 599. Please contact to our support team at support@quartzcomponents.com for any question related to shipping.
Please note that the Minimum Order Value is INR 500 for COD orders.
Really appreciate
I love this product. In there it says there 48 leds in 1 meter but I got 54 leds in 1 meter
great loved them!
you cannot trust Amazon or Flipkart while buying 5050 led strips coz they can give you those cheap ones where 3 red green and blue separate leds gives one light for the same price. but in these ones all three colours are in one chip itself. i remember quartz components only having 10k downloads and worrying if they I'll quit. but now I'm quite happy for them
Better than expected
I had bought so many RGB led strip, but this one is soo nice. Have rich colour, colour combination is soo good, an impressive white colour. As i expected, because i had heard so many time that QuartzComponents is a good platform for buying electronic items. That's exactly what I heard.., 100% recommendable to buy this RGB led strip. But, i had notice 2 things.. working on it can be made them better.
1. Blue colour is little faded
2. it has cool white colour which is little uncomfortable for eyes(on full brightness)
Overall the product is soo good.
I had use it with 12v 2 amp power adapter, for more than 100 hours continuously, i didn't face any problem
Really appreciate
I love this product. In there it says there 48 leds in 1 meter but I got 54 leds in 1 meter
great loved them!
you cannot trust Amazon or Flipkart while buying 5050 led strips coz they can give you those cheap ones where 3 red green and blue separate leds gives one light for the same price. but in these ones all three colours are in one chip itself. i remember quartz components only having 10k downloads and worrying if they I'll quit. but now I'm quite happy for them
Better than expected
I had bought so many RGB led strip, but this one is soo nice. Have rich colour, colour combination is soo good, an impressive white colour. As i expected, because i had heard so many time that QuartzComponents is a good platform for buying electronic items. That's exactly what I heard.., 100% recommendable to buy this RGB led strip. But, i had notice 2 things.. working on it can be made them better.
1. Blue colour is little faded
2. it has cool white colour which is little uncomfortable for eyes(on full brightness)
Overall the product is soo good.
I had use it with 12v 2 amp power adapter, for more than 100 hours continuously, i didn't face any problem