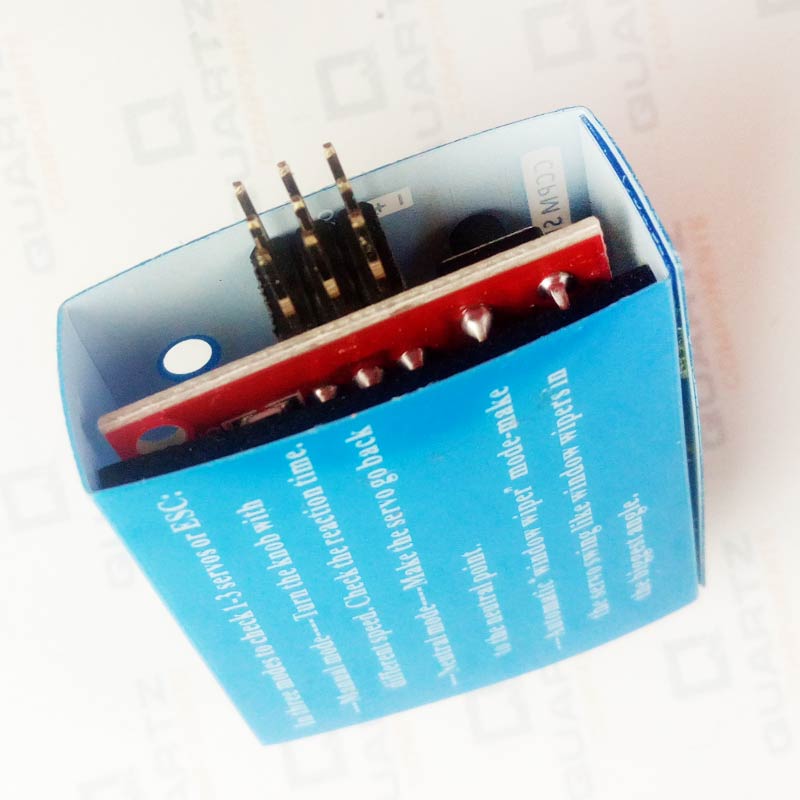 Free Shipping

On prepaid orders above INR 500

Cash On Delivery

COD available for orders above INR 500

3-5 Days Delivery

Shipped within 24 hrs

Dedicated Support

Mon to Sat - 10 AM to 6.30 PM
The Digital Multi Servo Tester ESC RC Consistency CCPM Master Speed Control offers 3 modes to check servos or ESC. The Manual Mode allows you to turn the knob to different speeds and check the reaction time. The Neutral mode makes the servo go back to the neutral point. The Automatic "Window Wiper'' Mode makes the servo swing like a window wiper in the largest angle possible. This servo tester can connect to up to 3 servos simultaneously. You can also connect up to 3 ESCs to test and compare their reaction time respectively. It can be operated on Voltage Range 4.8V to 6V with indicator LEDs to indicate the current state in the test. It is very handy tool to have when you deal with lot of robotic projects and electronic projects in general and want to ensure the motors are working just fine.
Specifications
Output: ≤ 15mA (5.0)
Input: DC 4.2-6.0Vdc
Output Signal: 1.5ms ± 0.5ms
Adjustment: manual, automatic, and the median.
Indicator LEDs
Can test up to 3 ESC simultaneously
Product Description
Package Contents
1×4.8-6V Servo Motor Tester /ESC Consistency Tester with Indicator Light
Returns Policy
Due to the type of products we sell, we accept limited returns. Below are the conditions where we can accept a return request.
1. Damaged During Shipment
If you receive a product damaged during shipment, please notify us within the 3 days of you receive the product, supported by the proper pictures and description. Once our support team accept the return, we will provide a replacement or a complete refund including the return shipping cost.
2. Wrong Item Shipped
If your item looks different from what is shown in the image on our website, we will take the item back and provide a refund or replacement as per your choice.

Limitation of Returns
We don't accept the returns for the products damanged by improper use of the product. Moreover we don't accept the return, if the ordered product is not fit for any specific application. Please read the product specifications and datasheet before selecting and ordering a product. Returns are accepted only with 3 days from the date of delivery.
Shipping
We ship to all over India with free shipping on all prepaid orders above 500. For Cash on Delivery orders INR 80 will be charged for orders below INR 599 and INR 30 will be charged for the orders above 599. Please contact to our support team at support@quartzcomponents.com for any question related to shipping.
Please note that the Minimum Order Value is INR 500 for COD orders.
It is working fine good product
4.8-6V Servo Motor Tester /ESC Consistency Tester with Indicator Light
4.8-6V Servo Motor Tester /ESC Consistency Tester with Indicator Light
Very good product
I m satisfied with the product
4.8-6V Servo Motor Tester /ESC Consistency Tester with Indicator Light
It is working fine good product
4.8-6V Servo Motor Tester /ESC Consistency Tester with Indicator Light
4.8-6V Servo Motor Tester /ESC Consistency Tester with Indicator Light
Very good product
I m satisfied with the product
4.8-6V Servo Motor Tester /ESC Consistency Tester with Indicator Light