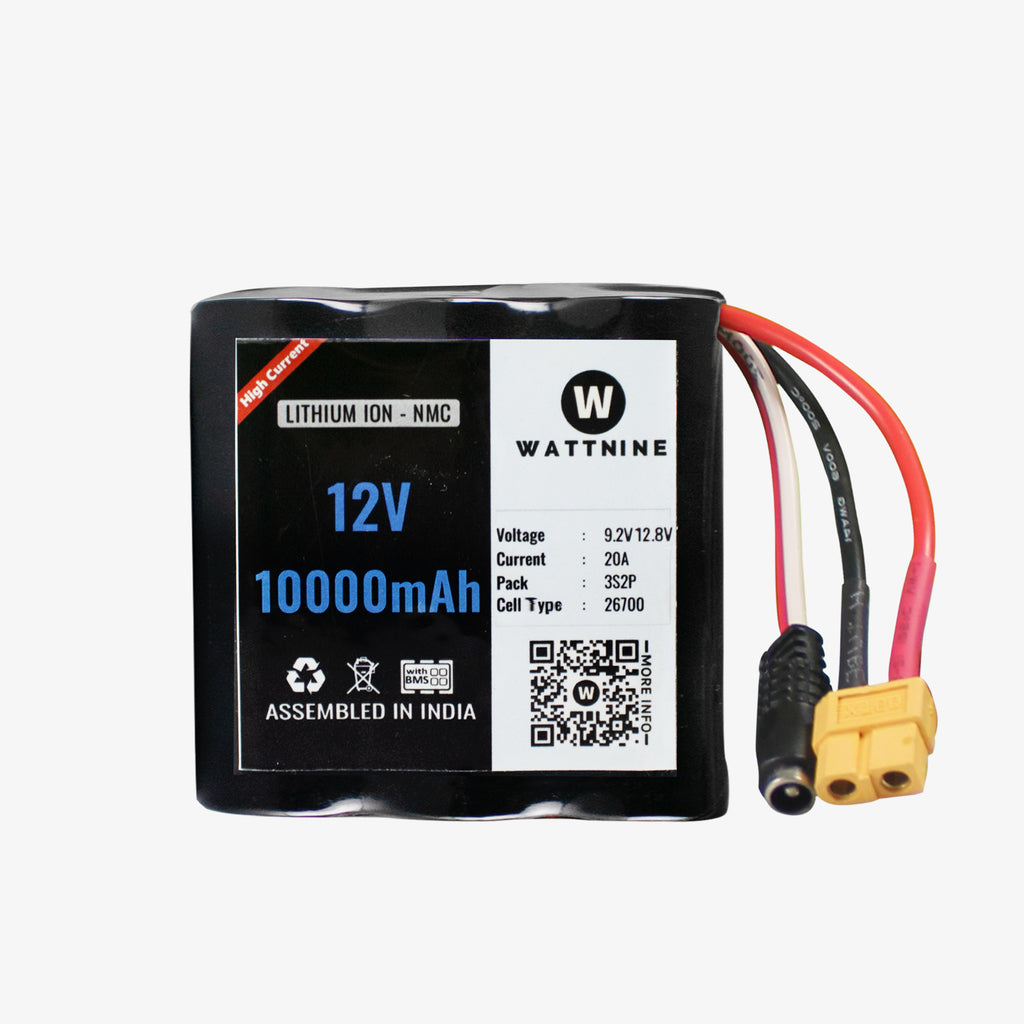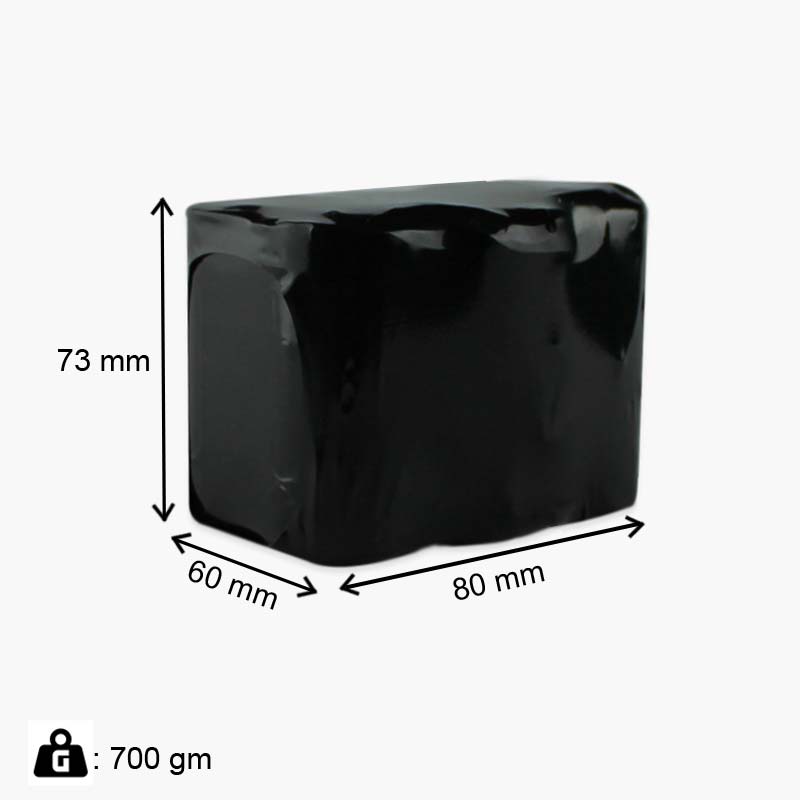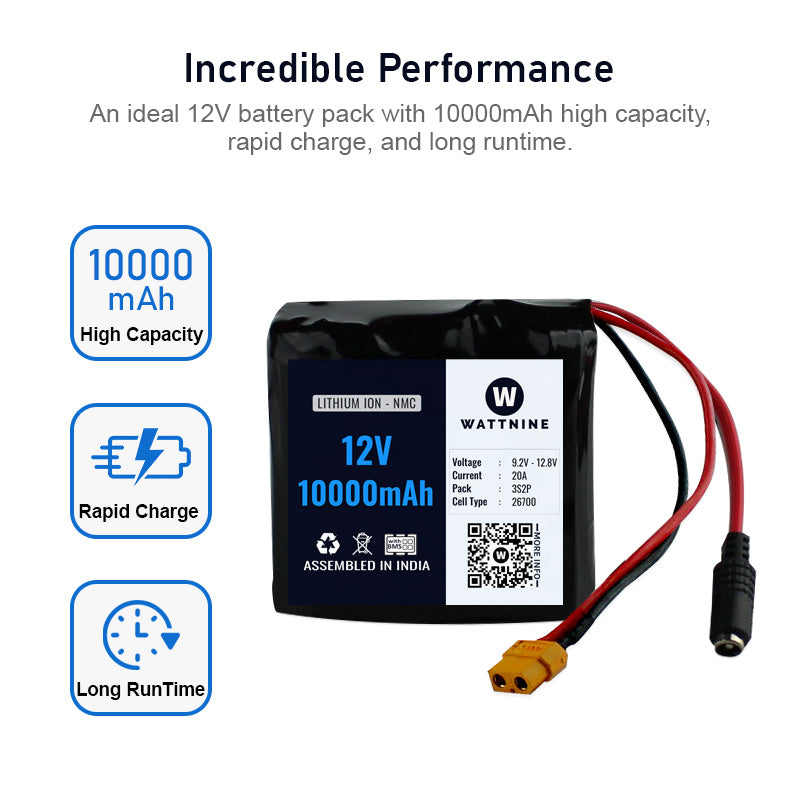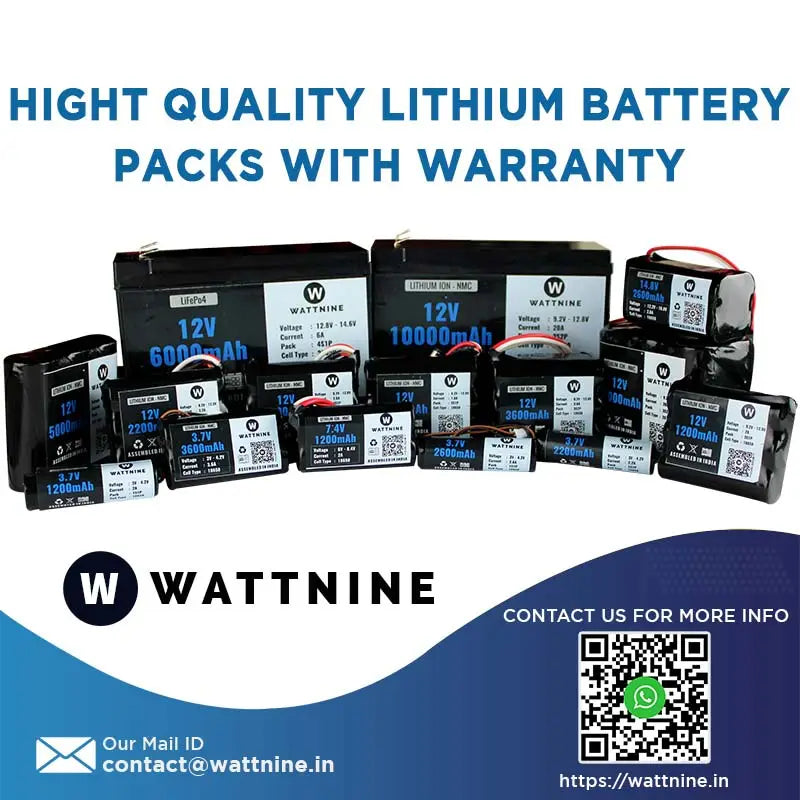 Free Shipping

On prepaid orders above INR 500

Cash On Delivery

COD available for orders above INR 500

3-5 Days Delivery

Shipped within 24 hrs

Dedicated Support

Mon to Sat - 10 AM to 6.30 PM
12V 10Ah Rechargeable Lithium Ion (NMC) Battery Pack with Warranty for Agricultural, Industrial and Commercial Applications like Spray Pump, Automobile Modification, Small Inverter etc.
This is a high-performance Lithium Battery Pack rated for 11.1V 10Ah (10,000 mAh). It is built using 26700 lithium NMC cells in a 3S1P configuration. The pack is tested to provide 10Ah at 10A discharge and can be charged using a 5A 12.6V Lithium charger. It also has a built-in BMS which provides over-charge, over-discharge protections.
Recommended Charger - Charging Time 
12.6v 2A Li-ion Battery Charger

 - 5Hrs.

12.6v 5A Lithium Battery Charger

 - 2Hrs.
Specification
Charging Voltage- 12.6V
Charging Current- 3-5A
Nominal Pack Voltage- 11.1V
Max. Continous Discharge Current- 10A
Max Discharge Current - 15A
Terminals:
XT60 Connector with Silicone wires for Discharging 

DC Female Socket with Wires for Charging
Applications:
12 volt battery for spray pump
Small scale UPS Battery
Battery for GPS Tracking - Vehicle Tracking - Asset Tracking
Wifi Modem or Router Battery for backup
12V Remote CCTV Camera
Battery Spray Pump for Garden and Disinfection
PSP
Industrial Machines
Emergency Lights
Robotics and RC cars
Music Players and Audio Systems 
Warranty Terms:
This battery pack comes with 1 year warranty from the date of purchase. Warranty is void if the pack/connector is physically damaged. 
Warranty Terms:
This battery pack comes with 1 year warranty from the date of purchase. Warranty is void if the pack/connector is physically damaged. 
Returns Policy
Due to the type of products we sell, we accept limited returns. Below are the conditions where we can accept a return request.
1. Damaged During Shipment
If you receive a product damaged during shipment, please notify us within the 3 days of you receive the product, supported by the proper pictures and description. Once our support team accept the return, we will provide a replacement or a complete refund including the return shipping cost.
2. Wrong Item Shipped
If your item looks different from what is shown in the image on our website, we will take the item back and provide a refund or replacement as per your choice.

Limitation of Returns
We don't accept the returns for the products damanged by improper use of the product. Moreover we don't accept the return, if the ordered product is not fit for any specific application. Please read the product specifications and datasheet before selecting and ordering a product. Returns are accepted only with 3 days from the date of delivery.
Shipping
We ship to all over India with free shipping on all prepaid orders above 500. For Cash on Delivery orders INR 80 will be charged for orders below INR 599 and INR 30 will be charged for the orders above 599. Please contact to our support team at support@quartzcomponents.com for any question related to shipping.
Please note that the Minimum Order Value is INR 500 for COD orders.
Question
Can i install it in a motorcycle for horn and lightings only? please confirm
12V 10Ah Rechargeable Lithium Battery Pack with Warranty (includes BMS) for Agricultural, Industrial and Commercial Application
इस्का बॅकअप 12ah SMF battery से ज्यादा है या कम. मुझे स्प्रे पंप के लिये च्यहेये
Capacity of a battery
It is needed to mention capacity of a battery, ie 1200mah, 2000mah, 2600mah,
Question
Can i install it in a motorcycle for horn and lightings only? please confirm
12V 10Ah Rechargeable Lithium Battery Pack with Warranty (includes BMS) for Agricultural, Industrial and Commercial Application
इस्का बॅकअप 12ah SMF battery से ज्यादा है या कम. मुझे स्प्रे पंप के लिये च्यहेये
Capacity of a battery
It is needed to mention capacity of a battery, ie 1200mah, 2000mah, 2600mah,